Car Accident Laws in Massachusetts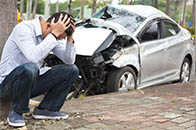 A car accident can happen to anyone at any time. The National Highway Traffic Administration reports, a car accident happens every minute of the day. All types of car accidents happen in Massachusetts every day. Even if you follow the rules of the road and always operate your vehicle safely, you can't control the behavior of other drivers. When another driver has ignored the law, acted negligently, or has caused an accident due to distracted or inattentive driving, innocent motorist can become victims of a car accident. If you have been injured in a car accident and believe it was through the negligence of another driver, you should consider speaking with an injury attorney to help you understand your rights and to help protect those rights.
The Law Office of Stephen M. Forlizzi has the experience and compassion needed to help victim of car accidents get the compensation they deserve and need to recover. Whether you are suffering from a minor neck injury or are a victim of a catastrophic injury, our firm fights to protect the rights of victims who have been injured by the actions of another. Our firm devotes individual attention to our clients and offers a timely resolution for car accident cases so victims can focus on recovery. We know compensation may be needed to cover extensive medical bills, the cost of life-long disabilities, lost wages, and even funeral costs in cases involving wrongful death. You need an advocate fighting for you as soon as an accident occurs. The sooner we are on the case, the sooner we may be able to get you the settlement you deserve.
Types of Auto Injuries
Some of the most common injuries we see and have helped clients get compensation for include:
Broken bones
Head or brain injuries
Scars and disfiguring injuries
Back and neck injuries
Internal injuries requiring surgery and long recovery times
Resource: Car Accident Statistics Massachusetts
If you have been the victim of a car accident and want to know what you may be entitled to contact auto injury attorney Stephen M. Forlizzi for a free consultation. We can answer all of your questions about Massachusetts car accident laws and what kind of settlement you may need. If you are still in the hospital or at home recovering, we can come to you to help get the process started as soon as possible. Do not assume an insurance company has your best interest at heart. Let us be the advocate you need to get what you deserve so you can get through this difficult time. We will explain our contingency fee arrangement, in which a legal fee is due only upon successful recovery on your case. For a free case evaluation, contact a car accident attorney at 978-739-4898.