Workers' Compensation Lawyers in Massachusetts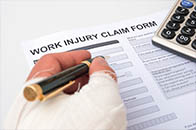 If you are injured at work, that injury can have a ripple effect on your entire life. Massachusetts injury lawyer Stephen Forlizzi has helps people receive the compensation they are entitled to. A work injury can open the door to mounting medical bills, painful rehabilitation, and possible lifelong disability. Every worker should be aware of the workers' compensation laws in Massachusetts and what kind of benefits they can expect to receive. Contacting a skilled and experienced workers' compensation lawyer as soon as possible can help ensure you get what you are entitled to.
Stephen M. Forlizzi has 30 years of experience helping those who are injured at work and has handled thousands of workers' compensation claims. With a wealth of knowledge about how these cases are handled in Massachusetts, our firm can make sure you know what to expect. We will gather witness statements, investigate the incident, and work tirelessly to make sure you are taken care of. Some of the more common work injury claims we successfully handle include:
Construction site accidents
Repetitive stress injuries, such as carpal tunnel
On the job back, neck and head injuries
Third party lawsuits
Resources: Work Injury Calculator
Out of Work
You may need to take off work for an extended period of time when you have been injured. You may also experience pain and suffering that last for years to come. Your ability to work again or enjoy activities you once loved may be affected in ways you don't realize yet. Your work injury situation may also leave you with more questions than answers, such as how to file a claim or when to expect payment of lost wages. Our firm offers a free consultation so we can determine what the best course of action is for your situation. Our contingency fee arraignment will ensure that there is no retainer or other monies necessary for you to engage us as your attorney. The Law Office of Stephen M. Forlizzi will be your greatest advocate and work to protect your rights for as long as you need.
If you are the victim of a work injury, seek medical care immediately, document everything you can, and let us help guide you through the legal process. We will make sure you get the workers' compensation benefits you deserve and need to recover.